SALVADOR DALI


"The only difference between myself and a madman, is that
I am not mad!"
"My whole ambition in the pictorial domain is to materialize the images of my concrete irrationality with
the most imperialist fury of precision..."
"Paranoiac-critical activity organizes and objectivizes in an exclusivist manner the limitless and unknown
possibilities of the systematic association of subjective and objective 'significance' in the irrational..."
"..it makes the world of delirium pass onto the plane of reality"

DALI'S BIOGRAPHY
Salvador Dali was born on May 11th, 1904 in Figueras, Spain. His full name was Salvador Felipe Jacinto Dali y Domenech. He was the second of three children. His father was named Salvador, and he had an older brother, who had died 9 months before Dali was born. Because the two events were so close together, Salvador Dali's parents started to think that he was the reincarnation of the first, and even treated him the same. For that reason he got that name.
OUR Salvador Dali was actually told that he was the reincarnation of his dead brother, and Dali himself admited that the
memory of his older brother still "haunted" him till the day he died. As a child his parents really spoiled him, so because
they did he often dressed up in emperor clothes and made believe he was one. The golden treatment and always present
shadow of his elder brother caused in him a distinct shift in personality. All of this supposedly was the main cause for
Dali's very wierd paintings. He said that it was like he AND his dead brother were painting at the same time.
Another child was born to the Dali Family in 1908. Anna Maria Dali, the baby of the family, came to be one of Dali's
most close childhood friends, and also served as a model for many of Dali's works later in life. Although there was the
typical young sibling rivalry, Dali's odd personality still allowed him to be the young "dictator" in the family.
Dali was also not a very good student. He never got very good grades, but people that knew him said that he was aware
of his own genius at a young age. He seriously began painting at about 10, although his more notable works begin at
age 13. Most of the works done by Dali as a young teenager were of the landscape surrounding Cadaques and Figueras.
Another important aspect of the landscape in and around Dali's home were the ruins near Ampurius. These Roman
garrison ruins were the playground for Dali's imagination. This deep rooted love for his heritage is seen over and over
again throughout Dali's works.Yet another important part of Dali's life at this point was the beginning of his formal art
training at Municipal Drawing School. Here Dali learned the basics of drawing, painting and engraving.
In 1921, Salvador Dali's mother died . Although Dali's father remarried his late wife's sister soon thereafter, this was a
turbulent time for Dali, as he struggled to become an adult and to be able to be treated as one. Soon after, in 1922, Dali
was accepted at he Special School of Painting, Sculpture, and Engraving, also known as the Academia de San Fernando,
in Madrid.
And at this school, at the age of 18, Dali had become a part of the young elite, an emerging group of intellectuals that
would have a profound effect on Dali. The most important of his associates at this time were Luis Bunuel and
Frederico Garcia Lorca. Both of these individuals, were very important to Dali's greatness.
It was in about 1923 that Dali first started to experiment with cubism, often he even locked himself in his own room so
he could paint. At the time, most of his colleagues were still experimenting with Impressionism, which, Dali had
mastered some years before. When his peers discovered him secretly at work on the Cubist paintings, he instantly
became somewhat of a campus personality, vaulting from standard membership to a leader of an important group of
young Spanish intellectuals.
In 1926 Dali was expelled from the San Fernando Academy, because of his refusal to take his final oral exams. When
told that the final exam topic would be about Raphael, Dali said that he knew much more about the subject than did his
examiners, and so he refused to take the test.
Over the next few years, Dali traveled extensively, visiting Paris in 1928. Dali actually met with Picasso in his own
studio, and event which profoundly influenced him. During the year 1928, Dali also experimented with the artistic
materials he had available to him. Several paintings include both sand and pebbles from home-town beaches glued
directly to the canvases.
It was also in 1928 that Dali first started to get noticed throughout the world. His oil painting Basket of Bread was
shown at the Carnegie International Exposition in Pittsburgh Pennsylvania. This work is an example of Dali's mastery
over yet another artistic style. Painting in the beautiful and so real style, you could even say that this painting was
almost "photo-realisitc"
As 1929 came along, two very important events were about to take place in his life. Both would drasticly alter the
destiny of Salvador Dali, who was determined to become one of the greatest painters of all time. He had always been
aware of his own greatness, and now was standing at the door of a new era. An era in which HE would come to reign
supreme, and be elevated to the status of a Master, the very standard against which great works of art are to be judged.
First, and most far reaching, was when he ran into Gala Eluard in 1929 in Cadaques. She was married at that time, but
once they met, the became inseparable. The other important event was that Dali decided to formally join the Paris
Surrealists in this same year. In January, he met with Luis Bunuel in Figueras to work on a script for the film which
would eventually be known as Un Chien andalou [An Andalusian Dog]. He also had his first one man show in Paris at
Goeman's Gallery, and was soon on his way to the top. However, there was a price to pay for all this success.
Disapproving of his relationship with Gala, Dali's father threw him out of the house, starting an fight between him and
his father, that would last almost 30 years before being healed. Also, being part of a formal art movement meant
producing prodigious amounts of art, and taking place in a variety of events.
With no money to support themselves, Gala and Dali moved into a small shack in a small village. There they spent
many secluded hours together, as Dali churned out paintings which could be sold to support them. As he exhibited these
works, and became more and more involved with the Surrealist, his paintings began to change rapidly, even from the
more abstract works he had completed in the early 1920's. The fight with his father became a main theme for many of
his artwork.
In 1934, Salvador Dali was formally expelled from the Surrealist Group of Paris. In a mock 'trial' they convicted him of
being contrary to the aims of the group. Apparently, Dali had become too fascinated by Hitler. There are a number of
paintings in which Dali depicts Hitler, some directly, some less so.
In 1940 Dali and Gala fled from Acheron, France, only weeks before the Nazi invasion, on a transatlantic passage
booked and paid for by Picasso. Dali brought a number of paintings with him when they fled, and created many,many
more upon his arrival here. People figure that most of Dali's paintings that were distributed throughout Europe were
destroyed by the advancing Nazi forces, although a few may have survived and may surface in the future.
The Dali's were to remain in the United States until 1948, when they returned to postwar Europe. By the time they had
returned, Dali and Gala had pulled off a variety of publicity stunts, and Dali had become internationally famous. They
spent most of their time in America either in New York City, or in a studio in California. It was also during this time,
that Dali professed his desire to become "classic". Soon, he would shift his painting style yet again, and in such a way
that would make him the undisputed Master that he had always known he'd become.
In early 1941, Gala managed to convince Dali that all of his Surrealist glory was nothing, and that he could achive
much more. It turned out that she was right, but it needs to be mentioned that one of the main reasons for Dali's success
was Gala herself. She constantly advised him on how to act and interact with the art community, especially while they
were in America for most of the 1940's.
In the early 1950's Dali developed his principles of Nuclear Mysticism. This was basically an combination of all of his
artistic, and philosophical styles, especially science and religion which oddly enough, are the exact opposites of each
other. Since childhood actually, he had been interested in science and the way the world worked. During the 1940's and
50's he more fully developed his ideas into the concept of Nuclear Mysticism. He thought that the nature of reality
would be fully explained by science soon enough, and that the very basis of life would prove to be a spiral. Later his
theroy was proven to be correct and one painting in particular, Nature Morte Vivante (Still Life- Fast Moving)
illustrates this concept directly.
In 1974 Dali opened his own Teatro Museo in Figueras. Many other international retrospectives followed throughout
that decade. Gala died in 1982, after which Dali's health began to fade rapidly. He was badly burned in a fire in 1984,
and spent the last few years of his life in relative seclusion in the apartments that he had adjacent to the Teatro Museo.
After a pacemaker operation in 1986, Dali had but a few years left to live. On January 23, 1989, Salvador Dali, the
greatest Surrealist painter of all time, died in the town of his birth, Figeuras, from heart failure with respiratory
complications.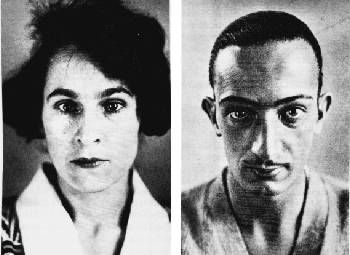 This is a picture of Dali and his wife Gala in the late 1920's